German Dirndl – A Comprehensive Guide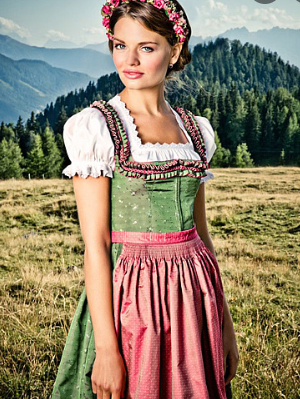 The Bavarian Dirndl dress is an iconic piece of clothing that epitomizes handcrafted elegance and embodies the beauty of modesty. This traditional German garment revolves around Bavarian pride and has molded itself into the traditions of Old Munich, as well as other major cities throughout Germany. 
The dirndl is one of the most iconic images at Oktoberfest. It can also be one of the most confusing to figure out how to wear it properly. There are various styles, sizes, and materials to choose from which can make picking a dirndl overwhelming. Whether you are headed to Munich for the festival or just to a traditional German beer hall, you're sure to see some dirndls. We wanted to help you out with this guide on deciding what dirndl is right for you!
Dirndl Origin 
The Word Dirndl, which originally meant "girl" in the Bavarian dialect, now refers to either a girl or a dress. Originally worn by women in frontier regions of the late 18th century, it is the traditional attire for garden parties and other festive occasions.
In the 1800s, girls who served as servants began wearing dresses similar to today's Bavarian Dirndl dresses. In the old days, women wore light summer dirndls and heavy winter ones. The summer dirndls had short sleeves; the winter ones had long sleeves and aprons to keep them warm.
Some of the women in the Gallery of Beauties at Munich's Nymphenburg Palace wore traditional dirndls. Helene Sedlmayr, a famous beauty whose portrait hangs in the gallery, was painted wearing an old-fashioned Munich style Dirndl in 1831.
The traditional dress of Bavarian women, the Dirndl, has evolved over the last century. In the 1970s, it began to shrink in size until it reached its modern form: a mini-Dirndl.
Traditional Dirndl Today 
Munich fashion designer is not the only one putting new spins on the dress. They combine traditional dirndl dress with new blends of different fabrics.  Dirndls and lederhosen, the traditional Bavarian garments, are both very popular in the South German region. 
Dirndls can cost a lot of money. Old-fashioned Bavarian women still wear Dirndls, traditional Bavarian dresses, every day. You can buy one made of silk or linen, with or without sleeves and with or without embroidery. There are lots of choices because every woman wants to find her perfect dress. The most expensive Dirndl was made of pure wild silk and took 300 hours to embroider.
Parts of Dirndl 
Modern Dirndls are made up of a bodice, blouse, skirt, and apron. The skirt can extend to the knee (mini), mid-thigh (midi), or all the way down to the ankles (the maxi). 
Classic dirndl blouses are normally white and are designed to cover your shoulders. The shape of your décolletage (upper chest) influences how much skin you want to show, so there are many options available like heart, diamond, oval or full coverage. Oktoberfest blouses with short sleeves, puffy shoulders, and popped collars are popular.
In traditional dirndl colours, black, blue and soft pink are predominant. However, today anything goes from silver and gold to electric pink and toxic green. The blouse is almost always white.  To emphasize the bust and give it more support, women wear a special bra under their dirndls.
German Dirndl Accessories 
The most common accessory for Oktoberfest outfits is a choker or ribbon necklace to match your dirndl. Popular decorations include pewter edelweiss flowers, deer (for Bavaria), lions, pretzels, and beer steins.
Bracelets usually match your bavarian dirndl dress, and can be made of ribbon, leather, or metal. You can even use a short scarf to tie around your neck and then move it onto one of your wrists as you change up your look.
The most common shoes at Oktoberfest are ballerina flats or Mary Janes, which are flat with a strap across the foot. These shoes are leather with a comfortable rubber sole, cleated heels and toes for making noise while dancing, and easy to pack if you're traveling.
Sturdy leather ankle boots are a popular choice for women to wear at Oktoberfest. These seductive boots are very similar to the dirndl pumps, but they have a lace-up top going 2-5 inches above your ankle and may include a side zipper for easy access.
You should avoid open-toed shoes at Oktoberfest, as there are a number of beer glasses broken each year, and the floors can get messy.
Oktoberfest is here again. It's a great time for the German people to join the traditional fun and show their love for beer and try Dirndl Dresses, Trachten Dresses, Lederhosen and other customized products of this vintage festival. So take your chance to visit Dirndl Online Shop. The site has a good experience in the production of Oktoberfest-themed outfits. Buy Dirndl online at Dirndl Online Shop.
Read also: afilmywap