What Questions Should You Ask While Consulting a Jyotish?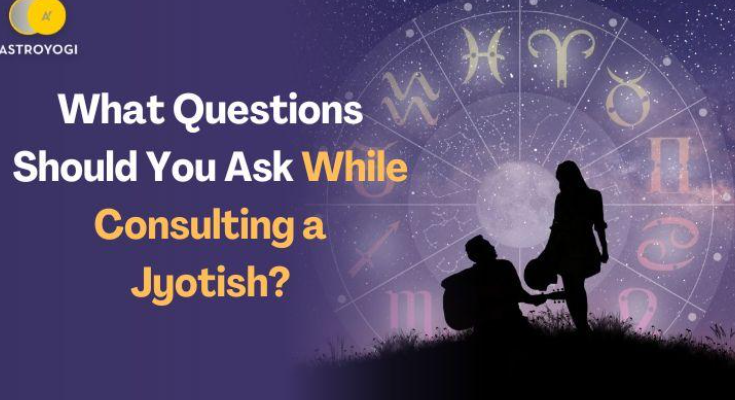 Life cannot be cast in one mold and is unpredictable. Change is inevitable and the most philosophical essence of human life. At what point a person's life will change for the better or worse is unknown. These are questions we often ponder about. These can only be answered and resolved by a Jyotish who has deep knowledge of astrology. 
Astrology and its Basis
Astrology is a study that thrives on careful calculations of a person's birth chart revealing glimpses of information about one's life journey. We are always curious to know the future and what lies ahead in our lives. Jyotish is the common name for an Indian astrologer who is well versed in reading and comprehending a person's birth chart or horoscope.  A horoscope is a chart that displays the various planetary positions at the moment of a person's birth based on the date, time, and place.  This helps an astrologer to predict several aspects of life. But you must know exactly which questions to ask such a knowledgeable person. 
Reach out to an Astrologer
With the progress of technology, gone are the days when one had to visit an astrologer in India in remote places. Consult online astrologers from anywhere at your convenience and engage in astrologer chat. Ask the right questions and make it worthwhile. 
India is endowed with profound knowledge of Jyotish vidya or astrology since the ancient Vedic period. Many famous astrologers in the past and current period have predicted the future in the right direction for individuals. Then why can't it be you? Astrologers can indicate the possibilities and probabilities of events occurring in a person's life. They may be able to reduce the intensity of untoward occurrences in one's life with their insightful guidance. So which questions do you pose to an astrologer? 
Education

– Most young people are confused about the area of education they should choose to be successful in life. Questions asked are: –

Is this field of study good for me?

Will I be able to achieve higher education?

Will I get to study abroad? Will it be good for me?

Career:-

The work life of a person defines them and gives them an identity. Most questions asked are:

At which age will I begin my work life?

At which age can I expect a peak in my career? 

Should I change jobs frequently or be steady in approach? 

When will I get my long-due promotion?

 Are any job changes indicated in my career at this age? 

Will such a change be good for me

Love:-

life and marriage-: Most asked questions in this sector of life depend on a person's age. Priorities change with age and so do our questions. 

Will I get married and at which age?

Will I get married to the person I love?

Will I have a love marriage or an arranged one? Will my marriage be happy/ lucky/ good for me? 

Will I have children? 

Which is the best time to conceive?

Will I have good relations with my children?

Relationships:-

Will I have healthy relations with my extended family/ siblings and parents/ parents-in-law? 
Health-related The first question that pops up to an astrologer is 

'How long will I live'? 

Will I long and remain healthy? 

If bogged down by ill-health and frequent visits to the doctors and hospitals, questions mostly asked are if I will recover from the ailment? 

Is there any life-threatening disease/ situation I will face in the future? 

Is there a way out of it/ avoid it/ overcome it? 

Will I fall prey to addiction/ recover from addictions? 

Money and property:-

Money in life is essential for sustenance and living with ease. 
One could ask questions about the degree of affluence in one's life. 
Will I make good money to live a luxurious life? 

Will I inherit property? 

How is my area of money and property influenced by planets? 

Will I face a monetary loss in my life? 

Will I recover from it? 

Should I take loans?

Travel:-

Frequent travel is part of life presently. Questions can be asked about:
Will I travel abroad for work often?

Will I travel and visit places?
Conclusion
Questions are several depending on an individual's life. Be prepared to ask the right questions for a Jyotish to wade you through the uneven nature of life.
click here more